Energy efficiency offers the potential for significant savings on energy bills and reductions in greenhouse gas emissions.  Repeated attempts have been made to make UK homes more energy efficient. While there have been improvements, these haven't been at the scale required on a path to Net Zero.  On top of energy efficiency, low-carbon heating must also now be rolled out at scale.
Failure to achieve momentum behind energy efficiency or low-carbon heating technologies is not for a lack of understanding regarding the barriers to take-up.  The barriers to home retrofits have been well understood for 10 years or more (see, for example, our articulation of behavioural, market and cost barriers, from 2015).   
But there are new reasons to be hopeful, with industry and policymakers renewing their efforts to drive take up, in the face of the cost-of-living crisis and the need to decarbonise.  
On February 8th, Frontier hosted a roundtable discussion to talk about solutions with senior executives from the UK government and the Energy, Financial Services and heating appliance manufacturing sectors, to understand how best to simulate and leverage customers' interest in this area and what role the government has in enabling the process.  
The following key themes emerged from the discussion: 
We need to prioritise the customer experience. Low carbon technologies can deliver affordable home comfort, and business models can smooth the transition. Work is already underway to reduce the number of interfaces for the customer – for example, collaboration between banks and installers so that consumers can finance new measures over time.  
Partnerships between trusted brands will be a key enabler. Joined-up offerings shift the risk from customers to collaborators along the value chain – so it's important they can trust each other to deliver. 
Customer awareness is the starting point. Both industry and government have been working to increase customers' awareness of both the range of technical options as well as ways of financing them. But further lessons might be drawn, for example, from rapidly increasing electric vehicle rollout or the uptake of solar panels, on how to make improving efficiency something desired by customers and relied on to deliver results.  Local approaches to delivery may help with this.  
The customer journey starts early. Purchases of heating appliances are often made in distress, and so choices may not always be optimal. Work with customers on understanding and implementing the ancillary improvements that might be required to facilitate the optimal choice for each customer needs to start well in advance of any eventual replacement.  
Developing skills is vital. Industry is working to train up installers for the challenge. It will be important to keep up the pace of skills development as a large part of the existing workforce nears retirement age.  
Relative prices need to reflect carbon costs while standards can help.  Government clearly has a role in ensuring that the right choices are the more profitable ones – which could help spur the development of the significant able-to-pay market (see the example below for London).  Charges currently added to final electricity and gas bills by government do not reflect the carbon intensity of the two forms of energy.  Government could also act to ensure suitable minimum standards for the installation of energy efficiency and low-carbon heating systems.
Figure 1  In London, there are boroughs with both relatively affluent customers and a major potential for energy efficiency upgrades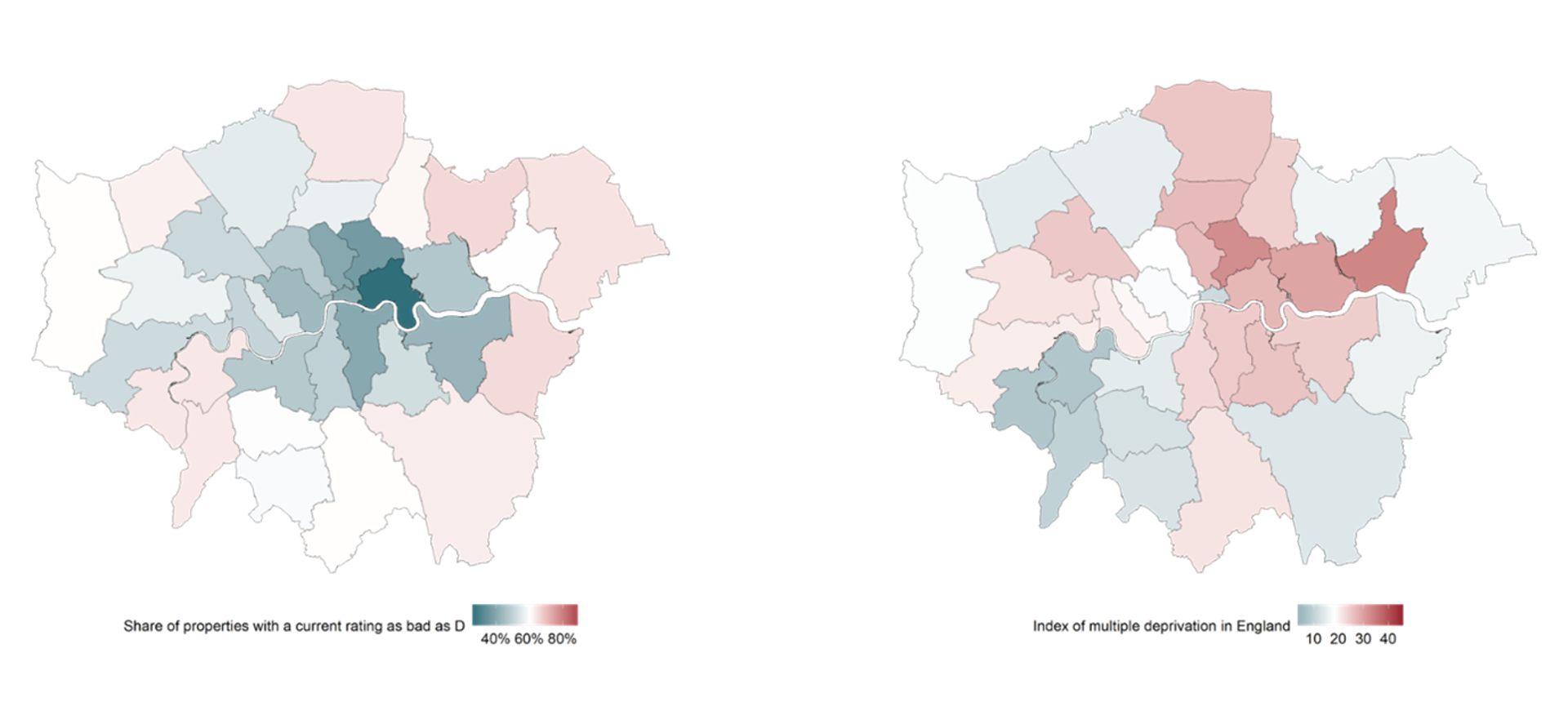 Source: ​Frontier Economics, based on EPC data, postcode data and official indices of deprivation​ 
We look forward to further discussions with our contacts in this area, and to support them in understanding the actions they can take to boost energy efficiency.