Frontier Economics was commissioned by the Geospatial Commission to analyse current patterns of demand for geospatial skills in the UK.
We used job vacancy data collected by Burning Glass Technologies to examine the demand for geospatial data skills across all sectors and regions of the UK economy between 2014-2019.
We identified a diverse list of geospatial skills that are called for by employers within job postings. This reflects the broad range of activity across the UK economy that can be considered geospatial. Required skills include the capability to work with specific software and scripting packages as well as those that correspond to earlier stages of the geospatial value chain such as collection and manipulation of data.
Spread of geospatial jobs across the economy
Geospatial jobs are not confined to one particular industry. Our data analysis identified a wide spread of sectors across the economy that require geospatial skills, for example retail, banking and pharmaceuticals. This pattern is in line with trends seen in the wider data science skills ecosystem and emphasises the importance of a targeted approach to expand the benefits resulting from the increasing uptake of geospatial skills across the UK.
Changes in demand over time
We found that over the period 2014-19 71,300 postings called for a geospatial skill. This corresponds to 1.6 geospatial postings per thousand job adverts.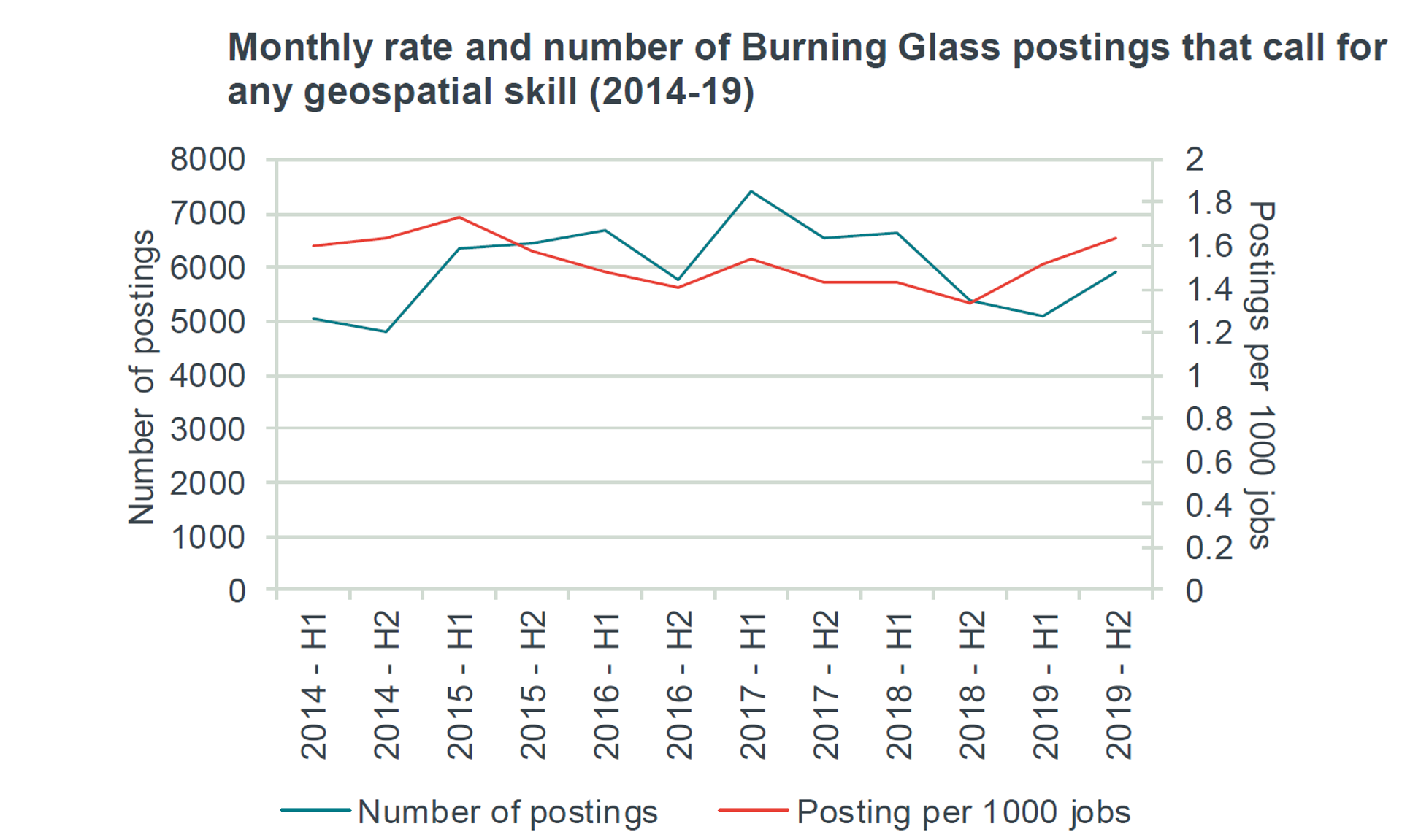 Regional patterns of demand
London contains the highest number of geospatial postings. However, a distinctly different pattern emerges if we examine the proportion of all postings within a region that call for a geospatial skill. Scotland and Northern Ireland have the highest rates of geospatial intensity. GIS skills are demanded at above average rates in Scotland and Northern Ireland with cities such as Edinburgh, Glasgow and Belfast driving this pattern.
To find out more about the research you can download the full report here.
For further information please contact media@frontier-economics.com or call +44 (0) 20 7031 7000.