Changes in ways of working under Covid-19 will bring about a shift in behavioural outcomes for firms. Here's how you can manage, and mould, your new normal.
From travel, to shopping, and even to how we exercise, the Covid-19 pandemic has been disrupting all aspects of our lives. The way we work – how we interact with our colleagues, how we generate ideas and innovate – is no exception.
As we discussed in a previous article, some of the changes at work may be discarded as the crisis eases – but others will be here to stay, as firms transition to a 'new normal'.  
But how will this affect the economics of your organisation – its culture and the outcomes it delivers? How can you use this enforced experiment to 'build back better' in the months and years to come? Our framework, which focuses on three important forces, can help you navigate the tumult to adapt to a new, post-pandemic way of working.
We're all WFH now
Across the globe, Covid-19 has forced firms to shut down their offices and move en masse to remote working. And while the immediate concern for many was to meet technological and operational needs, thoughts are now turning to how this new way of working will affect their business in the short and long term.
Incoming CEO Marissa Meyer famously banned working from home at Yahoo back in 2013, citing concerns about reduced communication and collaboration. But the issues facing firms today are multifaceted: overall capacity, productivity and client satisfaction are all areas that could be impacted. Firms have also voiced concerns about innovation and agility, while employee engagement and welfare – even the simple ability to have fun at work – are under the microscope too.
Working from home is not new, and we have some idea of what to expect. Research, for example, suggests repetitive tasks may be more productively accomplished in an office environment, while creativity seems to be boosted by less-structured remote working. But the sheer scale of home working brought about by the pandemic is unprecedented. So how can firms take stock of the bigger picture, and what evidence can they gather to help them navigate their way towards a productive new normal?
Direction, psychology and structure – our framework
Organisational and management theory point to a number of different frameworks for understanding how firms function. But because the overlaps are significant, one good model will usually suffice.
At Frontier Economics, we use a framework that integrates the congruence model of organisations with the tools of behavioural economics. It helps us understand how behaviours and cultural outcomes are linked to both the surrounding context and the actions of leadership – and it's therefore particularly useful in a time when  behaviour and context have shifted so seismically.
At work, cultural and behavioural outcomes – what people do – are shaped by three forces: the direction provided by leadership, the psychology of people's behaviour, and the formal structures in place within the organisation. To consistently achieve a given behavioural outcome (e.g. a stable and positive culture that supports the mission of the firm), these three pillars need to work in harmony.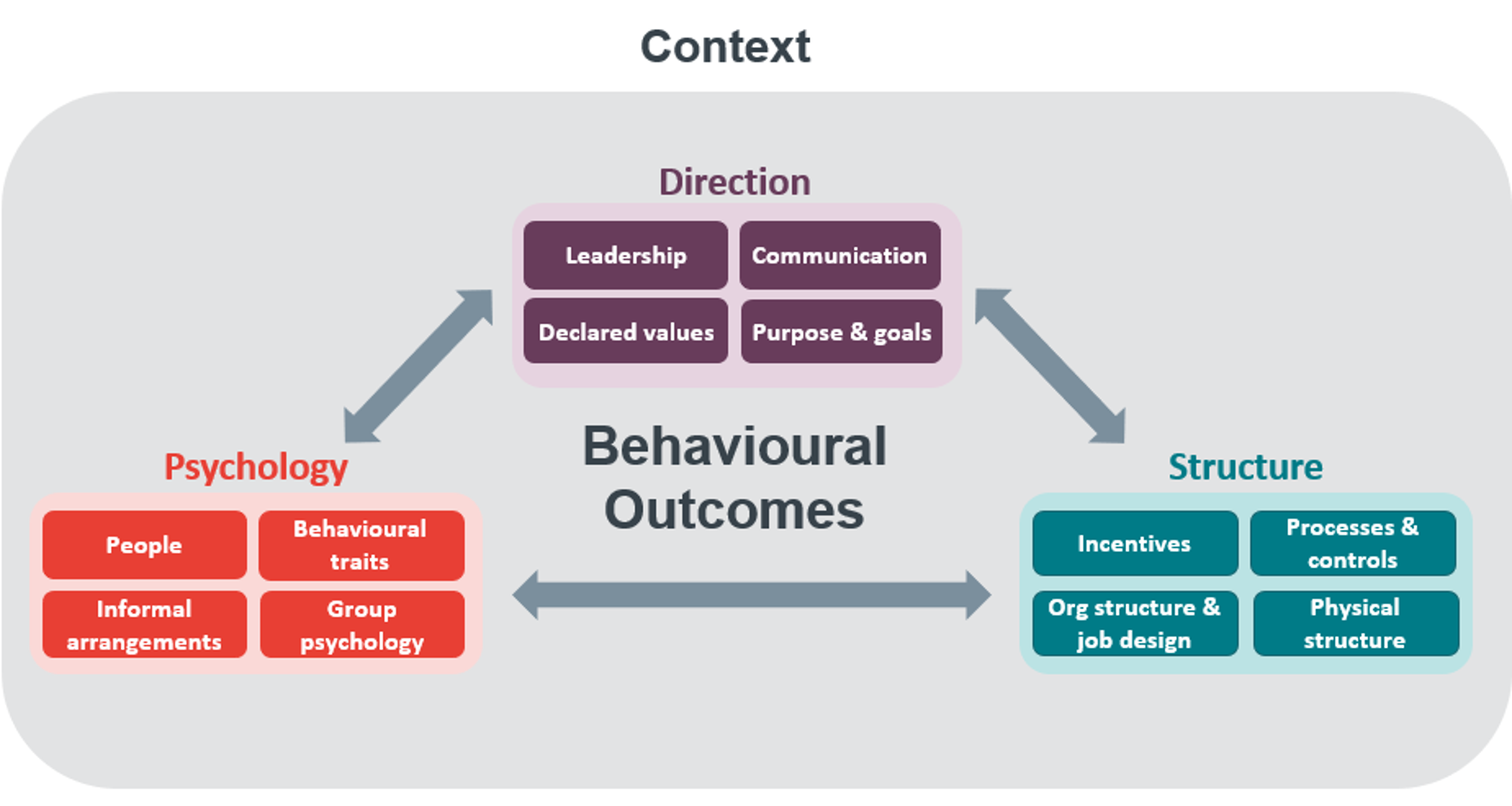 But disruption – such as a mass shift to remote working brought on by a global pandemic – can often cause misalignment. So what are the key issues to look out for within each pillar, and how might you act to keep everything in sync?   
Structure: During the pandemic, companies have adapted the incentives they offer in a variety of different ways. Some have introduced ex-post rewards, whilst others have provided additional days of annual leave. When changing incentives, it is important to understand the effect this will have on employee There are several questions from the field of behavioural economics worth exploring before taking any action: Are monetary rewards more powerful than non-monetary rewards? How are ex-post rewards perceived by employees? What are the short and long term consequences of a new incentive scheme?
Psychology: Depending on the platforms you use, working from home can accentuate the formation of bubbles or silos. The new social norms that people reference when working from home post-crisis may differ from the old conventions of the office, and will influence individual behaviour overall. Back in pre-Covid times, catching someone for lunch or a coffee would be an ideal moment to connect with a colleague. However, in our significantly more isolated, 'new normal', the only chance for these sorts of interactions is via virtual meetings. It is undoubtedly more difficult to read the behaviour of your colleagues through a virtual lens, so, the question is – will these sorts of interactions really become part of our new social norms?  Many organisations are using the toolkit of behavioural economics to actively establish 'new norms', and to ensure ways of working are aligned with the overall goals of the firm. At Frontier, we have a system which matches up employees for 'randomised virtual coffees', allowing those that may otherwise not have interacted with one another through projects they are working on, to chat and connect. Perhaps setting up these kind of meetings with an 'opt out' option for all employees would lead to these interactions becoming a regular part of peoples' weeks.
Direction: When Marissa Meyer decided to put a stop to working from home, she was trying to shape a new normal for Yahoo. The context, of course, is different now, but leadership actions during the crisis remain vital in shaping employee perception of a firm's purpose and values. Whether you emphasise creativity, compliance, protecting jobs, supporting your clients or your ability to deliver at speed, what matters is that your actions align with shifts in structure and psychology.
For example, if creativity is a core value it is key to ensure that a space is created for this creativity to grow e.g. 'randomised virtual coffees'. To make this sort of initiative a success you need to first of all communicate clearly with your employees and give theme direction. Secondly, make sure that employees feel they are in a safe space during these virtual coffees so they are willing to share their innovative ideas with colleagues. Finally, technology needs to be up to scratch. Think virtual whiteboards, easily accessible video conferencing systems and more to boost creativity. These steps will help you, as an organisation, to align your direction, structure and psychology.
As the Covid-19 pandemic continues to radically change the way we live our lives, firms have a unique opportunity to build a new future from the chaos of enforced change. One thing is for sure: it will not be easy. The good news is that there are a number of methodologies from the toolkit of behavioural economics that can smooth the path of change: producing a customer journey of workers, A/B testing or behavioural surveys. These methods will allow you to  keep the balance between direction, psychology and structure in mind. So if you are now thinking about how to build a safe space for your workers to return to work, keep these in mind and it'll help you in building a new normal positive and successful one.